Professional Engineering Services
Hunt Engineering LLC is a certified professional Civil Engineering Firm working in the general practices of Structural, Geotechnical, Environmental, and Civil design currently licensed in the state of Ohio. Hunt Engineering LLC completes engineering design services for public and private entities including residential, commercial, and industrial projects. Past project range from structural certifications for rooftop HVAC unit replacements to large office building complete structural designs.


Innovation
As a small certified professional engineering firm, Hunt Engineering LLC can quickly responded to the latest engineering techniques, academic research, building codes, and government regulations to complete the highest quality engineering designs available. Our staff are very innovative the and approach each project with cost effectiveness along with safety as the upmost priorities. Conventional approaches to each project are replaced with innovative measures to complete the clients goals in a timely and economically advantageous manner. We intend to earn your business and your return business with these efforts.
Quality
Edison Hunt (1900-1982), the original founder of Hunt Engineering LLC gained American values of the early 1900s. Edison was very serious about quality in all aspects of his work. Quality and integrity was his core workmanship values. These values are still the core values of Hunt Engineering LLC. One of Edison Hunt's principals that is the core of Hunt Engineering LLC corporate vision today is—"If you don't have time to do it right, you don't have time to do it."
Value
Hunt Engineering LLC completes high quality projects for an affordable price. All of the work that Hunt Engineering LLC provides value added services because of the small company size, low overhead, and high work efficiency as well as highly educated staff. Because of workmanship pride, Hunt Engineering LLC's work product exceeds our competitors even though it is accomplished at lower cost to the customer.
Service
Hunt Engineering LLC goal is to provide superior customer service. We intend to earn your return business by completing a high quality value added project at low cost. We also strive to assure the final product meets and exceeds your expectations and needs.
We appreciate your business. Thank you for visiting our website.

New Office Location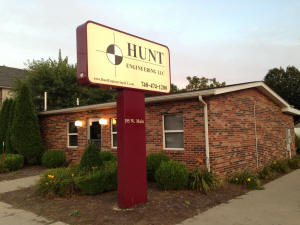 Hunt Engineering LLC office location:

Hunt Engineering LLC
195 West Main Street
P.O. Box 237
Tarlton, Ohio 43156

Phone: 740.474.1200
email: engineer@huntengineeringllc.com